Customized Workouts
Personalized Meal Plans
Progress Tracker
'You're Frustrated and Tired Because You're Not Seeing Results
You're not achieving results because your plan isn't personalized to your body, goals, and preferences. The Transform App gives you the exact plan you need to transform.
Get Your Personalized Transformation Plan on
The Transform App in 60 Seconds!
Step 1
Input your starting
measurements and goal weight
Step 2
The Transform App automatically
customizes your nutrition plan
Step 3
Choose your preferred workout
style: At home or gym
Everyone Deserves to Achieve Their Goals. We'll Show You How!
You want to feel confident and happy. But instead, you're feeling frustrated and helpless because you're not achieving the results you want. Nobody deserves to feel like that.
With over 30 years of combined weight loss experience through our hit weight loss TV show, best-selling books, The Transform App, and more, we've helped show millions of people just like you how to lose weight and achieve their goals-and you're next.
As YOUR personal trainers in The Transform App, we're going to show you how you can transform your life and achieve results like never before!
Chris + Heidi have been featured in
MEET OUR TRANSFORMATION HEROES. YOU COULD BE NEXT
Here are just some of our amazing success stories. You can become a Transformation Hero too!
JEREMY
41 Pound Transformation
"The program is REAL! The
support and accountability is for
REAL! The supplements they
offer are for REAL!"
NICK
33 Pound Transformation
"This has been my longest streak
of not having a 10,000 calorie
splurge day. This is the first time I
have not ridden the roller coaster."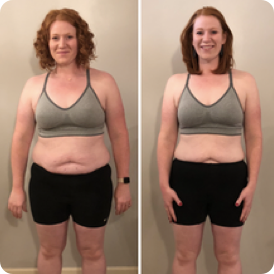 ALLISON
22 Pound Transformation
"My stronger sense of confidence
and being able to wear my
favorite shirts again."
ONNALEE
25 Pound Transformation
"I'm excited to finally fit into my
winter jacket. Its been two years
since I could zip it and a winter
jacket in MN is super important."
*Individual results may vary. Regular exercise and proper diet are necessary to achieve healthy weight loss. The testimonials featured may have used more than one transform with Chris+Heidi product or other programs to achieve their results.
The recipes are delicious, and
they make it so easy for you to
know what to eat and when.

Transform works! I can't even
say enough positive things
about it!

THIS IS A LIFE-CHANGING APP! Try it, you won't
regret it, you will love it!

I have steadily lost weight on
this plan.

If you're ready to make a
lifetime change, this is for you!
Easy to follow, no calorie counting needed!

The video demonstration of the
exercises is very helpful and the
life lessons are very encouraging.

The app is a personal trainer, a
dietician, and a life coach all in
one.

Meet Our Trainers
With 1,000+ Video-Guided workouts plus modifications for every exercise, we have a workout program that's perfect for you!

Meet Chris
With over 2 decades as a Transformation Specialist and after showing millions of people around the world how to transform their lives through the hit TV show Extreme Weight Loss, best-selling books, and now as the Co-Founder of Transform, Chris Powell continues his lifelong mission to eradicate weight-related suffering from humanity. As the creator and brains behind The Transform App, Chris is dedicated to pouring all of his experience into creating sustainable, customizable fitness solutions that work.
Meet Heidi
After showing millions across the globe how to transform their lives through sustainable fitness solutions through the hit tv show Extreme Weight Loss and her best-selling books, and as Transform's Co-Founder, Heidi is just getting started. She continues to call on her decade of transformation experience to develop new and exciting fitness programs in The Transform App to help everyone achieve their transformation goals, no matter where they are in their fitness journey.
Meet Emily
Emily is a busy mom of 5, a wife, and your Certified Dance Instructor! With over 20 years in the fitness industry, 10 of them teaching Dance Fitness, Emily has helped show thousands of people how to transform, one dance move at a time. She's poured all of her experience into Dance by Transform to help you get moving, break a sweat, burn calories, and have fun doing it!
Meet Danielle
As a Registered & Certified Yoga Teacher, Danielle is passionate about teaching total body transformation: mental, physical, and spiritual. Through her incredible SōRA, "A Yoga Movement" Program in The Transform App, Danielle will guide you through a moving meditation powered by curated music that fuses breath and motion for a total body workout.
Workouts from Total Beginners to Gym Rats
With 1,000+ Video-Guided workouts plus modifications for every exercise, we have a workout program that's perfect for you!

At-Home Workouts
(No Equipment Needed)
Bodyweight Beginner
Bodyweight Intermediate
Bodyweight Advanced
Dance Cardio
First Steps

At-Home Workouts
(Limited Equipment Needed)
Cross Training (Bodyweight)
At-Home Body Sculpting
At-Home Men's Physique

Yoga
*Pull Up Bar, Box or Bench, and Dumbbells may be needed depending on the program.


Full Gym Workouts
Iron Gym Beginner
Iron Gym Intermediate
Iron Gym Advanced
Cross Training (Equipped)
Your First 7 Days Are on Us!
Start your FREE 7-Day trial. You won't be charged until your trial ends.
(Easy One-Click Cancellation)
1 MONTH
Get Started
*Billed every month, cancel at any time

3 MONTHS
Get Started
*Billed every 3 months, cancel at any time

12 MONTHS
Get Started
*Billed every 12 months, cancel at any time

*Sale pricing applies to first billing cycle only
The Transform App Is 5 Apps in 1!
Don't bounce around between 5 different complicated apps to track your health and fitness. The Transform App is your own personalized transformation tool complete with everything you need, including video-guided workouts, meal plans, mindset training, and more!

Simple and Delicious Meal Plans
Over 500 delicious chef-inspired meals, customized and scaled to your goals. Includes fast food options, a weekly meal planner, a grocery list, and more! You can even browse thousands of Transform-approved, user-submitted recipes, or submit your own!

Video-Guided Daily Workouts
Workouts designed for both at home and the gym. Over 1,000 routines and full-time video-guidance from Chris, Heidi, and the Transform Team, with exercise modifications for each workout to meet you where you're at.

Progress Tracking
"Transform Logic" identifies any time your weight has slowed or plateauted, then trouble shoots and adjusts your program if you choose.

Macro Tracking
Track your macros with our custom meals or with our database of 750,000+foods. Watch your macro dials animate to show exactly how much you have remaining for the day.

Hydration Tracking
Staying hydrated is incredibly important for supporting your transformation goal, and now tracking your hydration is easier than ever through The Transform App!

Steps Tracker
The Transform App will seamlessly keep track of your steps for the day and show you how far you've gone.

Built-In Support System
Share updates, pictures, and victories with the most loving and supportive transformation community in the world.

Weekly Motivation
Get life lessons, mindset, and personal discovery coaching every week for a healthy and positive outlook on your life and transformation.

New Releases & Updates
Chris and Heidi are constantly releasing new programs and updates in The Transform App, including the newest Dance and Yoga programs!